Painting high ceilings can seem like a daunting task. To be sure it's done properly and safely, it's always best to call a professional. The George Apap Painting team goes through monthly training to go over safety and the newest techniques to make projects like this better, safer and faster.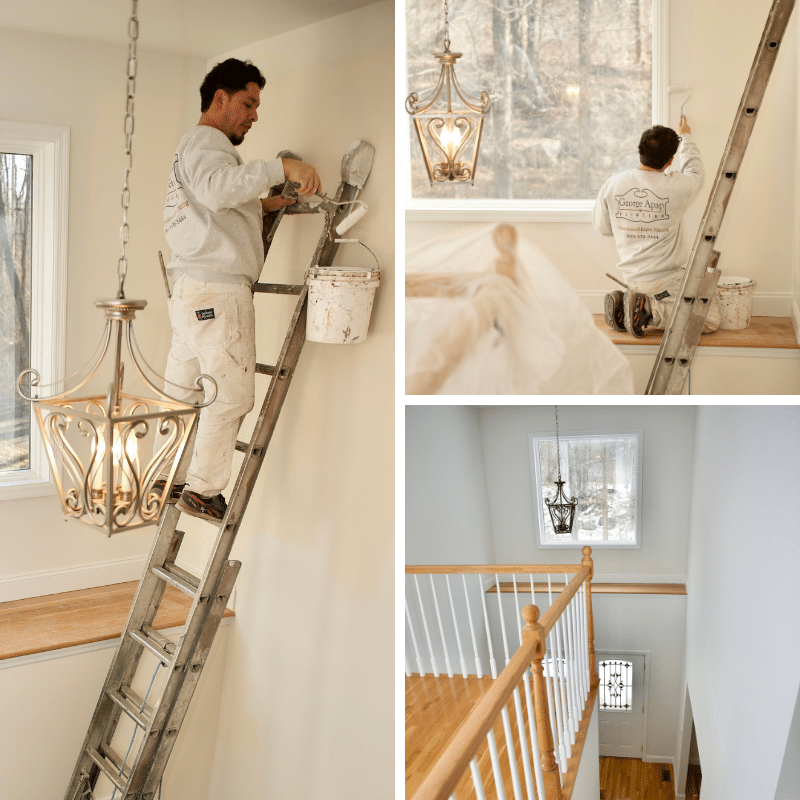 Here are some of the ways we are able to paint high ceilings. Many of these projects, for example, are in the entryway corridors of a home. There are tips like using a stain blocking primer to cover flaws. A traditional favorite to do this is a white pigmented shellac. This covers eyesores like roof leaks, tobacco smoke, etc.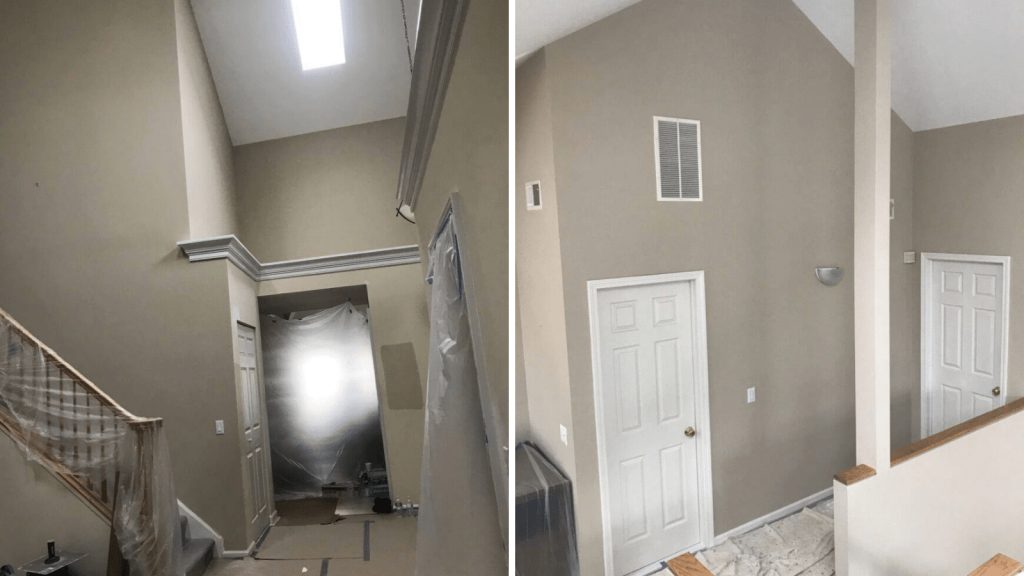 1. Scaffolding
Scaffolds are highly beneficial when working at a height for sustained periods of time. They provide a sturdy platform from which to work and allow you to have your tools and paint supplies at your level for ease of use.
2. Ladders
An extension ladder can get you from the ground floor or staircase landing up to the ceiling. Multifunctioning articulating ladders, platform ladders and 6' or taller step ladders are good options for painting projects
3. Prepare the Room
It's important to clear the room of furniture, artwork and plants. If any furniture cannot be moved, cover it with drop cloths. Cover the floor, stair railings and light fixtures. Use a ceiling duster with an extension handle to clear dust and cobwebs from the ceiling.
4. Extension Poles
For paint rollers provide greater reach without stretching. There are paint brush attachments that help you cut in areas that can't easily be reached with a ladder, although that requires a very steady hand.
Pro Tip from George: , "A super long extension pole can make it a lot easier when painting two story tall ceilings. Remember to cover everything because roller sprinkles will find their way everywhere.
Tips n' Tricks: There are a few tricks to getting a smooth, consistent coat of paint on the ceiling. First, work in sections about 5 or 6 square feet. Move quickly from one section to the next to make sure the paint along the edge doesn't dry before you roll the adjoining section. This is called "keeping a wet edge" and is the key to avoiding lap marks. To get the best coverage, immediately reroll each section at a right angle to your first roller direction as you go.
Check out some of our high ceiling work. Rely on our team to help and meet your "HIGH" expectations.