KITCHEN CABINET PAINTERS IN PATTERSON, NY
HIRE US FOR KITCHEN CABINET PAINTING SERVICES IN PATTERSON, NY AND SERVING THE SURROUNDING AREAS
DON'T BUY NEW CABINETS, GET YOURS REPAINTED!
Looking to update your cabinets? Instead of going through the hassle and expense of replacing outdated cabinetry, contact George Apap for professional kitchen cabinet painting services. Our cabinet painters in Patterson will revitalize them with advanced paints that will be durable and washable for years to come. Best of all, it will only be a fraction of the price of buying new cabinetry!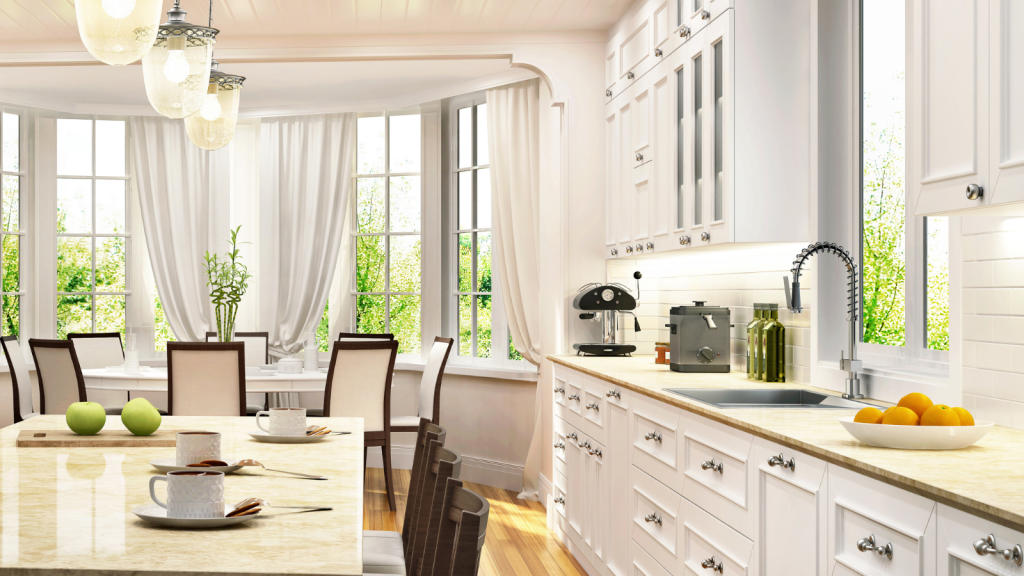 KITCHEN CABINET PAINTING Q&A
ARE MY CABINETS PAINTABLE?

Most wood cabinets paint terrifically. Some Formica or press board cabinets may not be suitable for paint. Our expert will advise you if you cabinets are suitable for cabinet refinishing.
WHAT COLORS CAN I CHOOSE?

Most of our cabinet paints are available in virtually every color. We have color experts available to help you choose you colors.
HOW LONG DOES IT TAKE TO PAINT MY CABINETS?

Typical kitchens take approximately 5 days to paint. Our kitchen cabinet painters can complete on site kitchen cabinet repainting that takes two days and door painting that takes three days.
IS IT DURABLE?

Our cabinet paint resists dirt, grease and wear for many years. If it ever gets scratched or damaged it can be easily touched up.
CAN I REPLACE MY HARDWARE?

This is the ideal time to update your hardware. There is no additional charge to replace hardware with the same hole pattern and we are also able to quote drilling new holes to accommodate new hardware.
HOW MUCH DOES IT COST?

While the price of painting can vary depending on size of the kitchen, painting cost is often 25% or less than the cost of replacing cabinets.
DO I NEED TO PAINT THE INSIDE OF MY CABINETS?

It is possible to paint the interior of the cabinets, however most homeowners prefer to paint the exterior and the doors both sides.
OUR SERVICE AREA
WESTCHESTER COUNTY, NEW YORK
Bedford Hills, NY
North Salem, NY
Pound Ridge, NY
Croton-on-Hudson, NY
Hastings-on-Hudson, NY
Armonk, NY
PUTNAM COUNTY, NEW YORK
Carmel, NY
Mahopac, NY
Brewster, NY
Patterson, NY
Cold Spring, NY
Putnam Lake, NY
DUTCHESS COUNTY, NEW YORK
Pawling, NY
Lagrangeville, NY
Hopewell Junction, NY
Millbrook, NY
Beacon, NY
Poughkeepsie, NY
ULSTER COUNTY, NEW YORK (ICC ONLY)
Clintondale, NY
Esopus, NY
Highland, NY
Kingston, NY
Marlboro, NY
Milton, NY
New Paltz, NY
Plattekill, NY
Port Ewen, NY
Rifton, NY
Ulster Park, NY
West Park, NY
ORANGE COUNTY, NEW YORK
Arden, NY
Bellvale, NY
Blooming Grove, NY
Bullville, NY
Campbell Hall, NY
Central Valley, NY
Chester, NY
Circleville, NY
Cornwall, NY
Cornwall On Hudson, NY
Cuddebackville, NY
Florida, NY
Fort Montgomery, NY
Goshen, NY
Greenwood Lake, NY
Harriman, NY
Highland Falls, NY
Highland Mills, NY
Howells, NY
Huguenot, NY
Johnson, NY
Maybrook, NY
Middletown, NY
Monroe, NY
Montgomery, NY
Mountainville, NY
New Hampton, NY
New Milford, NY
New Windsor, NY
Newburgh, NY
Otisville, NY
Pine Bush, NY
Pine Island, NY
Port Jervis, NY
Rock Tavern, NY
Salisbury Mills, NY
Slate Hill, NY
Southfields, NY
Sparrow Bush, NY
Sterling Forest, NY
Sugar Loaf, NY
Thompson Ridge, NY
Tuxedo Park, NY
Unionville, NY
Vails Gate, NY
Walden, NY
Warwick, NY
Washingtonville, NY
West Point, NY
Westtown, NY
LITCHFIELD COUNTY
Salisbury, CT
Sharon, CT
Kent, CT
New Milford, CT
Bridgewater, CT
Roxury, CT
Washington, CT
Warren, CT
Cornwall, CT
Goshen, CT
Salisbury, CT
Sharon, CT
Kent, CT
New Milford, CT
Bridgewater, CT
Roxury, CT
Washington, CT
Warren, CT
Cornwall, CT
Goshen, CT
FAIRFIELD COUNTY
Greenwich, CT
Stamford, CT
Darien, CT
New Canaan, CT
Wilton, CT
Ridgefield, CT
Danbury, CT
New Fairfield, CT
Sherman, CT
Brookfield, CT
Shelton, CT
Stratford, CT
Bridgeport, CT
Fairfield, CT
Westport, CT
Norwalk, CT
Weston, CT
Easton, CT
Redding, CT
Bethel, CT
Trumbull, CT
Newtown, CT
Monroe, CT