No matter your kitchen style, these color combinations are sure to stir up happiness! We love these kitchen pairings via Benjamin Moore:
Charming & Cozy, Coastal & Colorful & Open & Inviting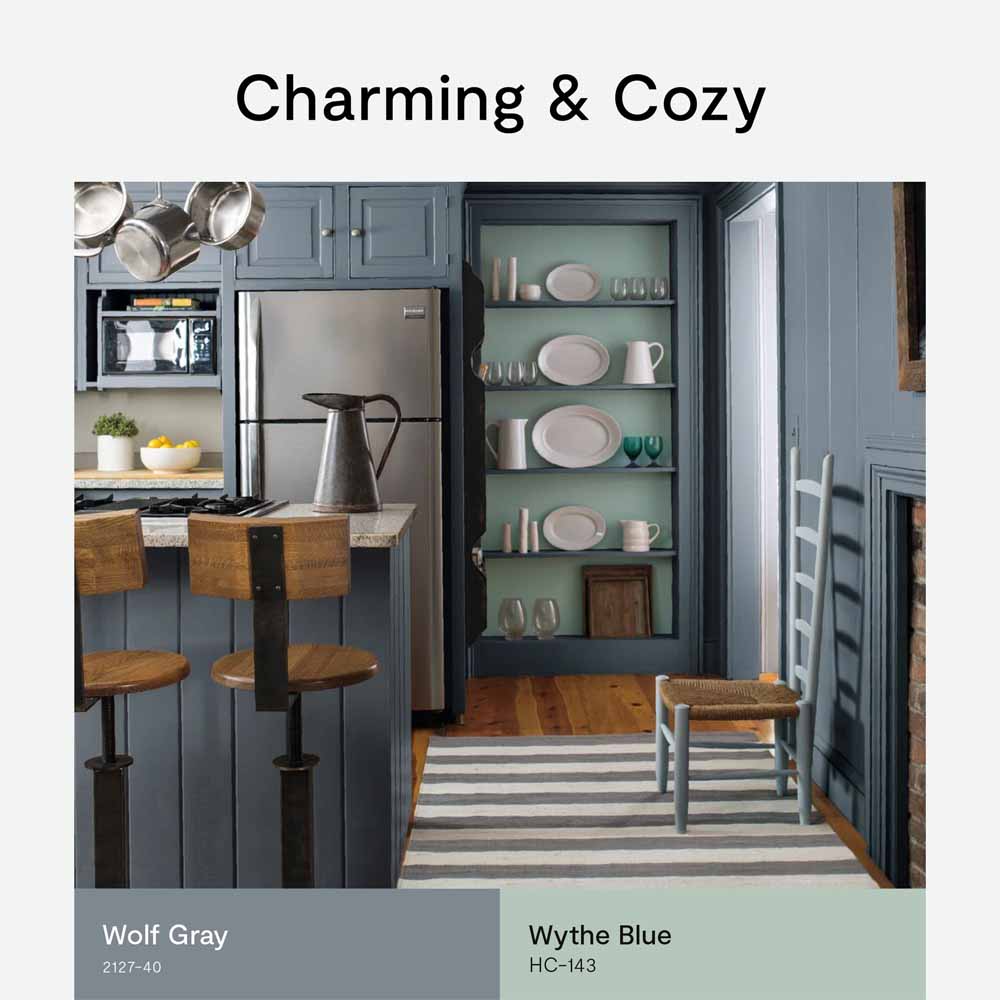 Charming & Cozy: Wolf Gray & Wythe Blue
Grey and blue is such a versatile combo and a great color design choice for creating relaxing, bright, and modern interiors.
Not only that, blue gray paint colors are very popular, and they are the rise. Blues are calm and relaxing and when you combine them with gray undertones, you have a super stylish mix. Blue grays look more sophisticated and upscale than a typical blue, and since gray is so stylish, it's the perfect recipe.
Blue grays are especially popular for bedrooms, since blues help you get the best night's sleep, followed very closely by gray. They work for most rooms of the home, especially living rooms, dining rooms, bathrooms and even… kitchens.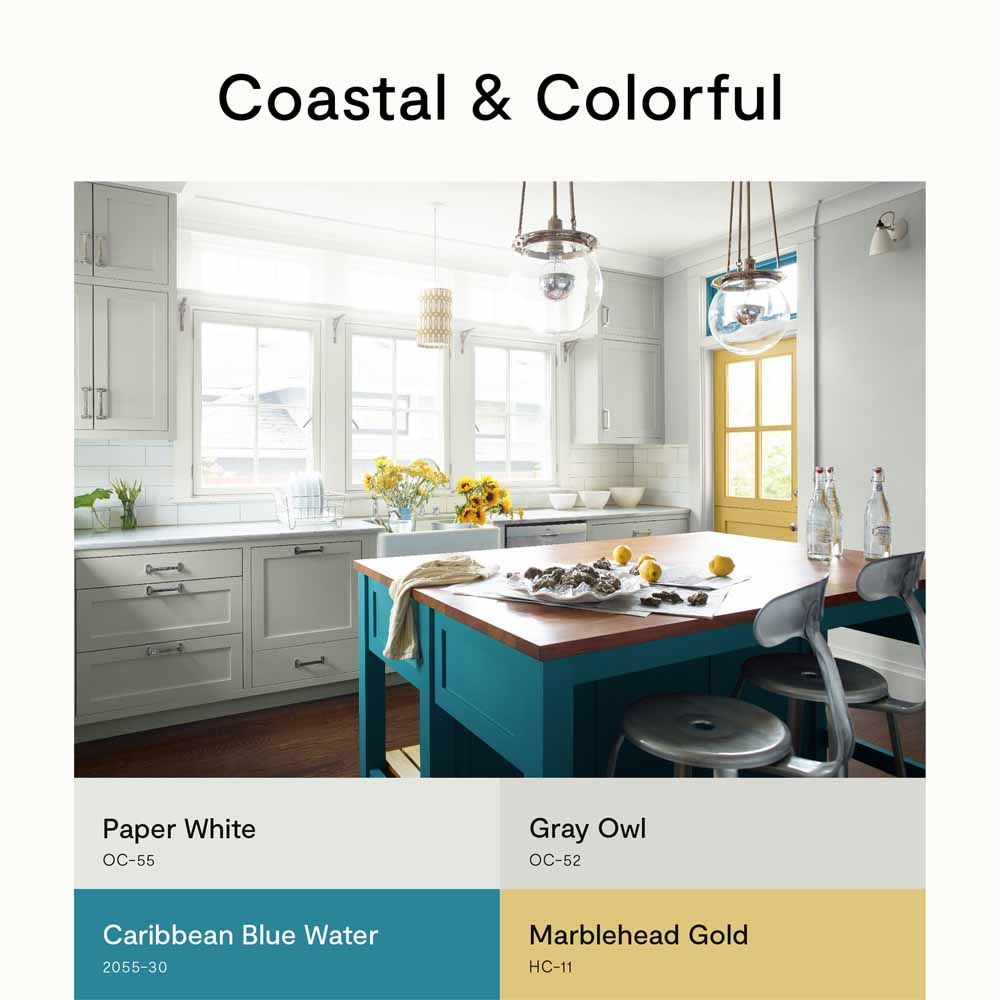 Coastal & Colorful: Paper White, Gray Owl, Caribbean Blue Water, Marblehead Gold
As you may have noticed, blue has gained momentum this year. And by paring with a gold- your kitchen can make a BOLD statement. Not to mention these warm colors are fun to accessorize with. This color combo brings brightness to a room without going overboard.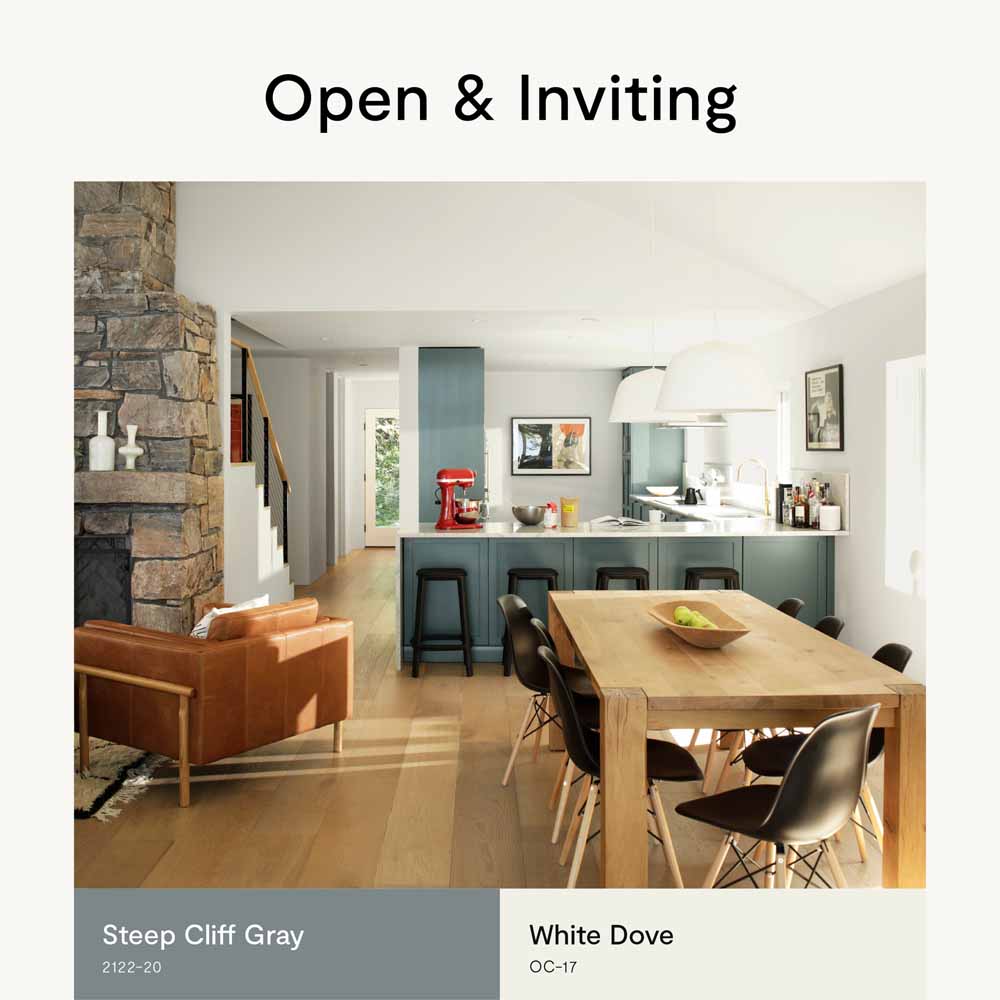 Open & Inviting: Steep Cliff Gray & White Dove
The soft appeal of grey can cool many interiors. Yet one secret power remains – its subtle transformation of kitchens. Often overlooked for warmer wooden tones, its ability to make a kitchen look fresh and contemporary works for a wide range of home styles. By blending into white, you can create an industrial look that can be accessorized with touches of comfort.
Interesting Fact: In a kitchen, light greys pair best with white and pastel shades like pink and green, while dark greys go well with brighter hues like gold, pink or deep blue.