We have a limited time offer you don't want to miss- ACT FAST!
If you book a residential Incredible Concrete Coatings project by 7/27/22 you will bet $500 off any project AND a FREE Go Mini Storage Pod. *One per household and cannot be combined with any other promotions.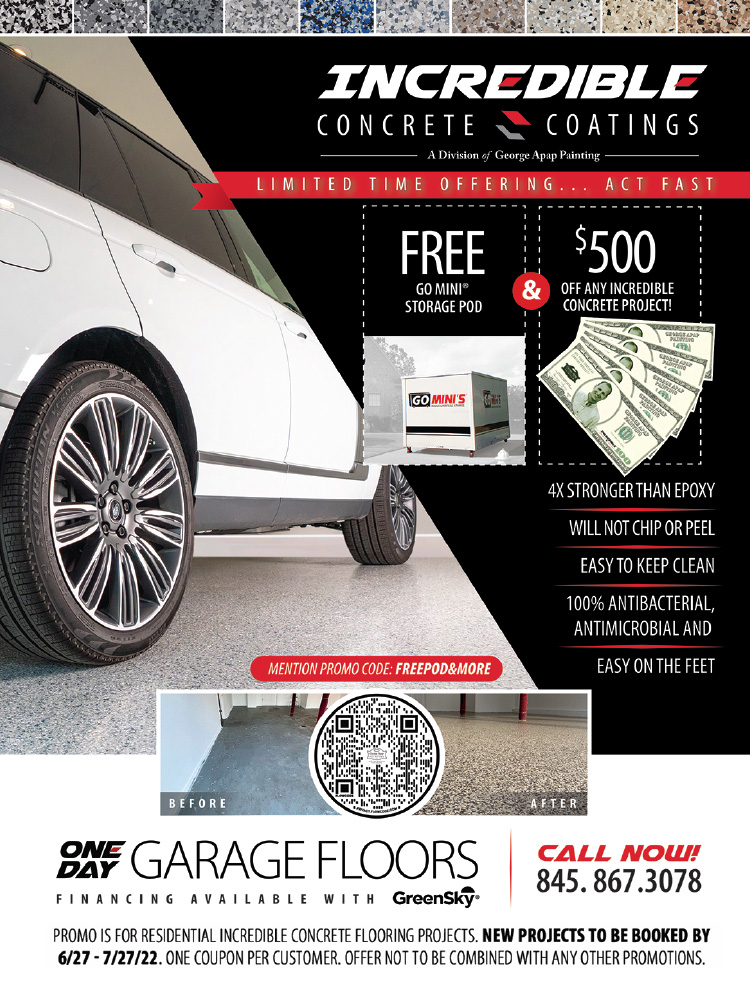 Customizable Flooring
We understand that your home is one of your biggest investments. Protect your concrete for years to come with our customizable flooring that holds up to the toughest wear and tear.
Our chip system utilizes three distinct layers for top-grade strength and stability. The multilayer build and customized color schemes make our chip system floors perfect for any high-traffic residential or commercial space.
What are the Benefits?
The multicolored chip offers the ability to hide dirt and mud, while the nonporous surface means oil, gas, and other contaminants cannot penetrate the surface. This results in a floor that can be cleaned by just washing the grime away.
What can you apply Incredible Concrete Coatings to?
Pool Areas
Basements
Automotive Shops
Dog Kennels
Parking Decks
Bathrooms
Maintenance Facilities
Sidewalks & Walkways
Front Entry Ways
Showrooms
Epoxy vs Polyurea:
Not all concrete coatings are the same. The typical do-it-yourself options at home stores are epoxy floor coatings that will only last a couple of years at best. Our trained installers prepare the surface and use durable concrete coatings that adhere to the concrete better.
Our polyurea coating system is four times stronger than epoxy surface coatings. Our system is a number of products applied over the course of a day.
The durable results are easy to maintain, 100% UV protected, and will not fade. Our polyurea coating is chemical resistant, does not stain, and wipes clean easily. We're so sure you're going to love the results of our work and products that we offer a 15-year warranty with every installation.
What does it cost?
There isn't a canned response to this. Because of the different requirements of every project, we offer FREE estimates that can provide you with an exact cost for the particular space and floor coating you desire.
If you are thinking about it for now or even in the future, contact us. We're here to help and answer as many questions as you have. This is your home; we want you to feel proud and comfortable with what to expect AND the outcome.
How to get started:
Call us for a free estimate at 845-878-3444
Request an estimate through our website: georgeapapinc.com
Message us on social media with any questions.